Description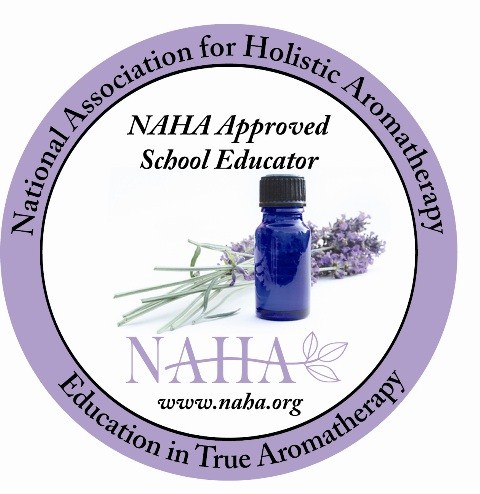 Master Aromatherapy is a NAHA Approved School Educator and offers aromatherapy courses that exceed the requirements set forth by NAHA for aromatherapy education. Our Aromatherapy online level 1 50-hour course exceeds the qualifications set by NAHA which qualify you as a "NAHA Certified Level 1 Professional Aromatherapist." Please visit NAHA for more information.
How To Become a Professional Aromatherapist:
Complete your Aromatherapy Course (which includes quizzes, assignments, a 3-5 page research paper and five case studies). You will receive a certificate when you graduate. Then, submit your Master Aromatherapy Certificate of Completion with hours completed to NAHA with application and membership dues for your NAHA Approved Certified Level 1 Certified Aromatherapist.
Online Courses Access
Our interactive aromatherapy online level 1 course was created with you in mind – built around your lifestyle, so you can start – take a break and pick it back up right where you left off anytime you're ready. You will have unlimited 24/7 access to your course! We'll hold your place and keep track of your progress through each lesson. Through this aromatherapy online level 1 program, you will have access to numerous videos, assignments, and several blending activities, coming away with a solid foundation in the clinical uses of essential oils.
Online Access to Aromatherapy Certification for Massage Therapists Course
You will also have email, telephone, and text support from your instructor!
Textbooks Are Optional For This Professional Aromatherapist Course
Everything is online but just in case you want to have all of your activities in print, you can purchase the textbooks (optional). The textbook and workbook are available in our aromatherapy shop and on amazon.com. You can use these to guide you as you discover the aromatic world of essential oils. Our online courses are available day or night for your convenience, but you can also take a break from the computer and read at your leisure.
Aromatherapy Supplies
Master Aromatherapy gives students the option to use your own supplies and essential oils covered in this course such as 20 perfume strips, bottles, and carrier oils. Essential Oils included: Basil (Ocimum basilicum L), Bergamot (Citrus bergamia), Black Pepper (Piper nigrum), Clary Sage (Salvia sclarea), Cypress (Cupressus sempervirens), Eucalyptus (Eucalyptus globulus), Frankincense (Boswellia carterii), Geranium (Pelargonium graveolens), German Chamomile (Matricaria recutita), Lavender (Lavandula angustifolia), Ginger (Zingiber Officinal), Orange (Sweet) (Citrus sinensis), Peppermint (Mentha x piperita), Roman Chamomile (Anthemis nobilis), Marjoram (Origanum marjorana), Rosemary (Rosmarinus officinalis), Wintergreen (Gaultheria fragrantissima or G. procumbens), Lemon (Citrus limon), Tea Tree (Melaleuca alternifolia), Ylang Ylang (Cananga odorata)
Other Supplies You Will Need For Your Aromatherapy Course:
Spray Bottles (2), Inhalers (2), Plastic Bottles for lotions (2), Plastic Bottles for massage oils (2), Plastic Tubs (2), Coffee Bean Tin, Pipettes, Labels and Marker, Perfume Strips (20), Lotion Base, Carrier Oil, Beeswax, Rose or Lavender Hydrosol, Dead Sea Salts, Cocoa butter, Palm Kernel Oil, Avocado oil, and Shea butter.
Instructional Videos
You will find various videos from our in-house library and YouTube. You will learn how to create your own signature blends and become an Aromatherapist.
Watch and learn how easy it is to create your own synergy blend or signature perfume using essential oils. Our practical aromatherapy certification online and home study course offers a convenient way of learning how to treat common ailments with your essential oils for everyday living.
Become a Professional Aromatherapist
Come away with a solid foundation in the clinical uses of essential oils and a Certificate of Completion.
In order to receive a certificate of completion, you will need to complete all of the lessons and quizzes, create blends and products covered in class, perform five case studies, and write a 3-5 page research paper on any aromatherapy topic of your choice. You will have one year to complete your course.
This Aromatherapy Certification Online Program is accredited and surpasses the qualifications for the NAHA Certified Level 1 Certified Aromatherapist by The National Association for Holistic Aromatherapy (NAHA), and the Alliance of International Aromatherapists (AIA), both leading governing bodies for national educational standards for aromatherapists.